By Kevin Stidham, CNC Foreman for Woven Metal Products
Kevin has worked with Woven Metal Products (WMP) for 24 years, overseeing the crew who manages the computer numerical control (CNC) and robotics machinery used by WMP.
Imagine lifting several hundred heavy sheets of metal onto a cutting machine, over and over — all day — making sure they're all cut to the exact same size. This repetitive work could take a person hours if not days — not to mention the physical toll on the worker. But that's where our CNC and robotics equipment comes into play, giving our WMP team the advantage of automation, powered by our team's expert knowledge. What used to take days by hand to lay out and clean up can now be done in a matter of hours.
WMP's CNC equipment includes several punch presses, laser, waterjet and plasma cutters, perforation machinery, saws, press brakes and more. In the last few weeks as part of a shop remodel that we're debuting soon, we added a new laser cutter and robotic welding arm to the shop, and our team (and customers) are benefitting from even more productivity with this new technology added to our repertoire. Using this equipment, we're able to more efficiently perform tasks to produce mass quantities of products, while maintaining precise specifications for individual customers.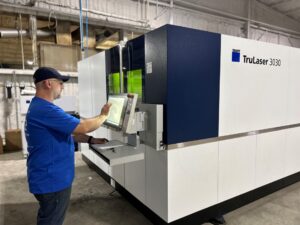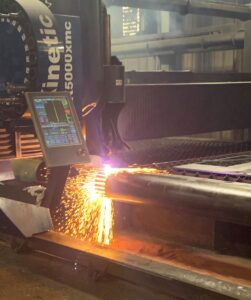 In fact, our CNC team can program our equipment to perform very custom work, as each customer has specific needs and designs. Working with our drafting department, we can lay out a project, program the software, and send it to our machines for production. We also have several machine terminals throughout our shop, allowing us to do real-time editing as needed.
Our CNC team is trained to program and run multiple machines for maximum productivity. Adding to that, once CNC machinery is loaded, we're able to continue work without an operator 24 hours a day, seven days a week, helping us meet quick turnaround times and deadlines. With this automation, we're able to run a true production line when needed, meeting tight deadlines for large orders.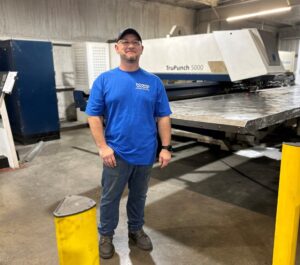 With our robotic machinery, which includes robotic welders and robotic handling robots, we're able to automate more processes that assist us in mass, yet precise fabrication. Our handling robots lift heavy metal sheets with suction cups, placing materials on a pallet for cutting, over and over. And our robotic welders maximize our team's time, as robot welders' arc-on time is significantly longer, with no hood to take on and off or reposition. Of course, there's no substitute for human skill, which is why we still rely on our professional welders for the more intricate welding projects.
In the more than two decades I've been working with this equipment at WMP, it's been amazing to see our work capacity and the technology we use grow at such a fast rate. From start to finish, what used to take our shop a week now takes less than a day.
With our leadership team's dedication to keeping up with the latest equipment and technology, our team's capabilities, the quality of our products, and the speed of our service is hard to beat. Since we are so well-outfitted, we do the majority of projects in-house, resulting in faster turnaround time for our customers.
In the future, I see our CNC and robotics equipment and abilities continuing to grow. After all, in this industry, if you're standing still, you're going backward. And WMP is all about moving forward.
Learn more about Woven Metal Products at https://wovenmetal.com. Follow WMP on LinkedIn and Facebook for the latest news.