Radial Reactor Internals
Woven Metal Products (WMP) has a long-established history of innovation and supply for many radial flow reactor internals. As a trusted partner and supplier to many licensors, our team is often the first call for planned outages and emergency repair or replacement components.
We can quickly address and ship complete reactor internals needed locally or globally from our home base outside Houston, Texas, USA.
In most cases we have your plant's existing drawings saved and on file, saving you time and money in engineering and planning.
In a radial flow reactor, the flow direction is across the catalyst bed and through the entire length of the vessel simultaneously. In any radial flow reactor, the internals are critical to ensure catalyst retention, allowing for superior process flow and maximum output.
Products we manufacture for radial flow reactors include:
Inlets
From very simple bolted or welded slotted pipe inlet diffusers — to an engineered licensor inlet diffuser, WMP can fabricate your solution. With many styles and options available, WMP is your one-stop solution provider.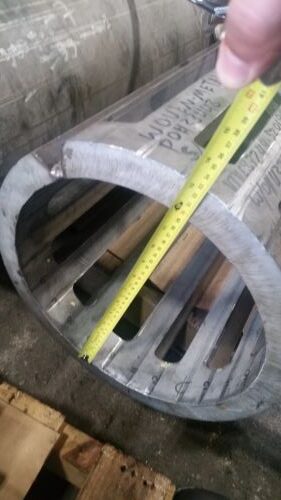 Scallops & Outer Baskets
We offer a wide range of scallops to meet your exact needs — perforated, profile wire, our own patented, reinforced version, as well as a patented process optimization method — all manufactured to meet or exceed the hole tolerance and material minimum carbon specifications of all major catalyst manufactures.
We fabricate perforated scallops in 18-gauge, 16-gauge and 14-gauge, open bottom or closed bottom, additional blank off area options, mounting options, and match fit / machined risers and seal plates. And we're one of the only North American fabrication facilities approved to fabricate the Universal Oil Products (UOP) punched plate scallop.
Using our expertise and firsthand experience, we have patented two scallop design solutions to overcome common customer problems.
Scallop Stiffener
Extends scallop life by improving structure support / reducing crushing when subjected to high heat.
Process Optimization Method
Designed in partnership with Axens to optimize catalytic reactions. By varying scallop slot sizes/patterns and perforation sizes/pattern within the center pipe, we can regulate and fine-tune reaction flow. This approach potentially prolongs catalyst life, increasing throughput and optimizing pressure drops.
We also offer complete solutions for outer basket replacement and repairs, whether it's a new full outer basket or converting an outer basket to a scallop system.
However, scallops are often a preferred solution, as they are more cost-effective than baskets when it comes to repair and much easier to install and maintain for years to come.
Center Pipes
Center pipes are critical for your process, and the WMP team understands how important reliability is. With our years of fabrication experience and field repair expertise, we can offer the correct long-term and short-term equipment solutions, whether you need full replacement in-kind or a sectioned tier to repair damaged areas within a zone.
Considering an upgrade? We offer many options to enhance the performance and reliability of your center pipes, such as stiffener rings to improve strength, new construction with thicker plates for added strength, profile-wrapped, or the latest enhancements in efficiencies. Profile wire and woven mesh material options are also available, and our team can manufacture those options to meet your process requirements.
Regeneration Baskets
Regeneration baskets are a critical step in maintaining catalyst life. Basket containment, roundness, tolerances and other properties are all critical for even distribution of heat and flow. WMP understands these properties and can manufacture regeneration baskets in their entirety, or we can send basket repair kits for a small sub-section repair when needed.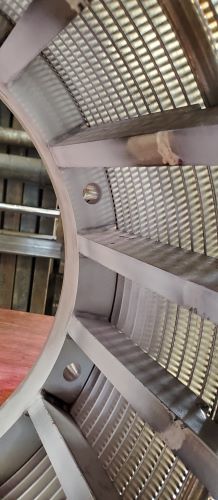 Radial Reactor Specialty Products
Some radial reactor specialty products for several types of reactors, assemblies and other specialty processes include catalyst transfer pipes, scoops, expansion bellows, hardware and gasketing, to name a few. Our team can manufacture these and other specialty products across various materials.