1. Tell us about yourself. How did you get into this field?
I've always been good with my hands, and I enjoy the technical side of our work at Woven Metal Products (WMP). I'm good at watching someone do something once and then mimicking it. That ability has helped me grow within my field. I was born and raised right outside Alvin, Texas, in Texas City, so it's nice to be close to home. A childhood friend recommended that I fill out an application for WMP, and here I am 10 years later.
2. What's your role at WMP?
I'm a shop supervisor, and I receive incoming jobs and distribute them to our shop. I prioritize our workload, so we can meet customers' ship dates. I oversee all the welders and shop helpers, making sure everyone has what they need to get the job done. I also track the hours worked on each project and make sure the team is meeting the time allocated for each job. I collaborate with the drafting department and help plan out a product's design and how to fabricate it to our customers' precise specifications.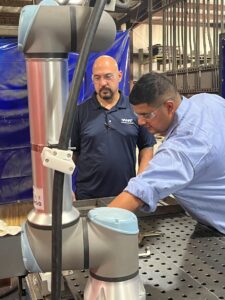 3. Tell me about your career journey.
I started out as a shop helper, cleaning and separating parts. I was really motivated and moved up to working with the robotic saw and more advanced equipment. I also learned welding, watching and learning on the job. I continued to grow from there until I became the shop floor lead for the separations department. When my supervisor moved to another position, I took over.  
4. What does a typical day look like for you?
I get here early and catch up on project time tracking from the day before. I also make sure the shop workers know the priorities for the day and what they need to work on next. While that is going on, I troubleshoot any problems that come up and help fix any issues on the floor or with the client through the drafting department. It's a balancing act to keep things on schedule while keeping the team happy.  
5. Tell me about your team. How do you all work together?
I have a team of lead combo welders who report directly to me. They play a big part in keeping our workflow moving. They also help train new welders and teach them the best techniques to build our products. Without that team, my job would be very difficult.  
6. What are some of the most interesting projects you've worked on?
I am impressed with every project we do, and there's always a wow factor at the end for me. We take a bunch of metal and fabricate it into a beautiful, put-together product at the end. From outlet support grids and scallops to center pipes, it's always amazing to me to see what this team is capable of. I really enjoy bringing something drawn on paper to life.
7. What's the best part of your position?
I enjoy being part of the entire process, as I'm able to see all the different steps that go into a product. I see drafting do their part, the computer numerical control (CNC) team in the cutting phase, and welders put it all together. I also enjoy sitting in our production meetings and giving my opinion when needed. I get to use my voice for the direction of the shop.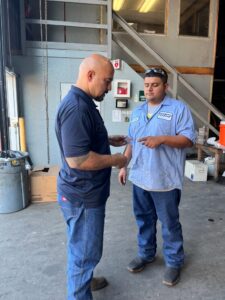 8. What advice would you share with others considering this industry?
Always strive to do better the next day, ask a lot of questions, and don't let anyone hold you back. There really are endless possibilities, and it's up to an individual to make it happen. You can go as far as you want in this industry.
9. What's something your colleagues may not know about you?
Outside of work, I love spending all my time with my kids. They are 12, 8, 7 and soon to be 2 years old. They are all amazing and so fun, and all so different from each other.
Learn more about Woven Metal Products at https://wovenmetal.com. Follow WMP on LinkedIn and Facebook for the latest news.