By Woven Metal Products Team
Today is National Innovation Day, a moment to recognize creative solutions to difficult problems and new approaches that make life and processes easier across a variety of industries.
For our industry, innovation means creating custom solutions that bring efficiency, reliability and better outputs for our customers. And our customers are making a big impact on the world, producing some of the world's primary fuel sources and creating chemicals that are the building blocks of everything from plastic products to fertilizer.
When we celebrate innovation at Woven Metal Products, we're celebrating products and designs our team has developed after working closely with our partners and in the field with our customers. We've seen their pain points firsthand and created solutions to improve their processes.
Here are few of the innovations our team has dreamed up, created (and even patented) over the last few years.
Outlet Support Grid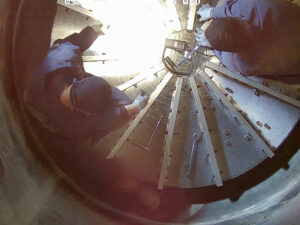 When we designed the Outlet Support Grid (OSG), our goal was to obtain a lower pressure drop in an axial flow reactor, which would decrease energy consumption and increase production for our customers. After years of research and development in partnership with Haldor Topsoe,  we debuted our proprietary, patented design that has reduced our customers' operating costs.
Our OSG design is simple and quick to install, and it can be fabricated in as little as six weeks. Compared to traditional support grids or standard outlets, this OSG can achieve a decrease in pressure of up to 75% over a conventional system, giving a boost in production capacity, as well as energy savings. The OSG also sits at a lower position in the base of the vessel compared to standard installations, allowing for more media capacity (up to 40%), improving output, effectiveness and production. Each product is custom-made for each reactor, so installation is fast and simple through the existing manway. It can also be easily removed in sections, making inspection or repair easier.
Tray Deck Repair Washer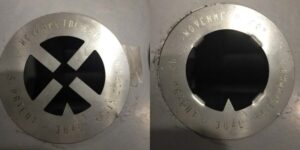 One of the main ways we service our customers is fabricating both replacement and custom process internals that go inside their plant's reactors, towers or pressure vessels (drums). Over time, aging plants will experience recurring equipment problems and will frequently need to order rush tower tray panels and large quantities of replacement tray valves. Because this problem is typically found during unit outage inspections, plants have to order new, custom-made rush replacement tower tray deck panels — or risk longer downtime.
After continually seeing this issue among our customers, our team had the idea to design a tray deck repair washer for towers that could bend into the existing enlarged tray panel holes, allowing for a quicker, simpler fix. We patented this time and money-saving solution in 2016, which makes repairs possible by one field crew member in just a few hours vs. an entire team who would be needed otherwise.
Scallop support distributor for radial flow reactor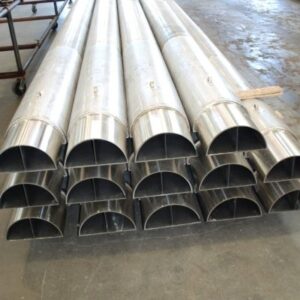 Conventional scallops are used in radial flow reactors and function as conduits through which gases flow inside the reactor vessel. These scallops are typically elongated, tube-shaped pipes with a cross-sectional "D" shape through which gases flow freely through the surface of and along the length of the scallop. When these materials flow through the scallop and escape through the openings on the inside surface, they come into contact with catalyst particles in an adjacent catalyst bed and cause a reaction to take place.
However, a common problem we noticed with conventional scallop designs is they're prone to damage within the high heat environment of a reactor. They tend to get crushed or bent out of shape when the metal is subjected to such high heat. When scallops are damaged, a reaction with the catalyst can't take place properly.
That's why we designed our scallop support distributor, which we patented in 2020, to improve support structure and reduce crushing throughout the scallop's lifetime. The support distributor is attached to the inner surface throughout the entire structure of the scallop to strengthen it from within.
Systems and Methods for Improving Flow in Radial Flow Reactors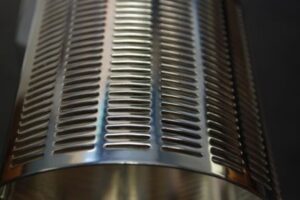 When it comes to radial flow reactors, it's important to optimize the catalytic reactions to get the most effective outputs in processes. By varying the slot sizes and patterns of the scallops and perforation sizes and pattern within the center pipe, we can regulate and fine-tune the flow of these reactions. Working with Axens, we developed and patented a process condition optimization method between scallops and center pipes to optimize the amount of flow through the internals and better ensure operating conditions, potentially prolonging the life of catalysts, increasing throughput and optimizing pressure drops.
With our decades of expertise in fabrication, we are able to design and customize whatever is needed to meet each customer's needs in this process. We meet or exceed the standards set within the fabrication industry for tolerances with precision and accuracy.
—
We're proud to be a premier fabrication facility with a global reputation for industry expertise and custom design solutions, serving as partners to our customers, helping them solve challenges and designing the tools they need to succeed.
These four designs are just a few of the ways we're helping our customers operate more efficiently and cost effectively to create the products so many of us rely on in our daily lives.
Do you have a challenge you need help solving? Reach out to us today. We're ready to create the next innovation with you.