1. Tell us about yourself.
I was born and raised in the area, and I have a beautiful wife of 19 years and two beautiful teenage daughters. I enjoy the outdoors and spend most of my free time on the water either boating or fishing.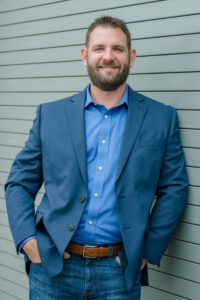 2. What's your role at Woven Metal Products (WMP) / IndChem?
I manage WMP's Inside Sales Team, Purchasing, Engineering/Drafting and Estimating, as well as project manage general fabrication and reactor projects for WMP and IndChem, a subsidiary of WMP that focuses on carbon steel and structural fabrication.
3. How long have you been with the company?
I came aboard in the summer of 2005.
4. Tell me about your career journey. You started in the shop, now you're in management. How did you do it?
I started off in the field service division of IndChem in 2005 and later transitioned to the shop. I quickly picked up on the fabrication of the product line being manufactured on-site, learning how to operate and maintain the equipment and teaching others. I never stopped asking questions as to how I could improve and be a better asset to the company.
Within a few years, I was well-versed on the use of all of our equipment, as well as the fabrication of the products we provided. After several years of managing IndChem team members, I made the transition to WMP. One of my new roles included estimating for our Reactor Division product line, and I soon grew into the purchasing management role, later taking on the leadership role in our drafting department.
 5. What are some of the most interesting projects you've worked on?
The renewable energy projects from all around the world, including a number of bio-diesel refinery projects in the U.S. are most interesting to me.
6. What work are you most proud of?
I'm proud of my growth within the company, starting off in an entry level position and working my way to a senior management role in a relatively short period of time.
 7. What's the best part of your position?
I like being able to work with everyone throughout the company, as well as being of service to all our clients.  I am a people person and enjoy working with others.
8. Why do the products your team fabricates matter?
Our products are used in chemical plants and refineries all around the world, which produce a variety of things we use in our everyday lives. Our products enable some of the most important chemical processes to proceed. Without the quality we produce, these things would not be able to happen. It is a super exciting, behind-the-cloak type of industry that many people don't know about.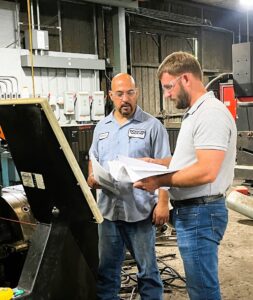 9. What's a surprising part of your job others might not know about?
The majority of our clients operate 24 hours a day, 365 days a year, so regardless of the time of day, I am a point of contact for many of our customers' needs. Typically, clients don't call on a Sunday afternoon to just check in; they need something and know WMP is a reliable source for just about any of their needs.
10. Tell us about your team. How do you all work together?
We really work well together as we all play a role in each other's departments. We support each other to ensure the manufacturing group has what they need to provide a quality product to our customers. We also all understand the importance of one another and how each work together: the sales team allows the shop to have work, marketing supports those efforts and brings in customers, the shop does the finished product with critical quality checks, all to ensure the end product meets or exceeds our customers' needs.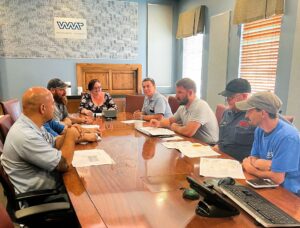 11. What does a typical day look like for you?
As we provide products for customers around the world, the phone never stops ringing, no matter what time of day it is. The mornings start off in meetings with our European clients and then transition to our U.S. customers throughout the rest of the day. Generally, my office is a revolving door of people coming and going all day. Because of that, there is never a dull moment as I get to touch many aspects of our business.
12. What advice would you share with others considering this industry?
I've had a great opportunity to learn and grow in the industry with WMP and have been able to provide a great living for my family.
Connect with David Quinn on LinkedIn and learn more about Woven Metal Products at https://wovenmetal.com. Follow WMP on LinkedIn and Facebook for the latest news.