1. Tell us about yourself.
I'm a devoted husband and father who cherishes family time. I'm also passionate about exploring the world, delving into literature, and constantly seeking out new experiences. Professionally, I have nearly 20 years' experience in manufacturing and project management.
2. What does the VP of Production do?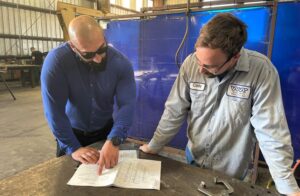 I oversee and optimize our manufacturing process, creating plans to meet our production targets efficiently. I hire, train, mentor, manage and lead our production team, which includes production managers, supervisors and production staff.
I oversee the entire production process — from planning and resource allocation to quality control and process improvement. I'm responsible for making sure we meet our production goals efficiently, within budget, and in line with our strategic objectives. I ensure all this work is done in a safe working environment, as I'm responsible for implementing and enforcing safety procedures to protect our team members and comply with industry regulations.
3. How did you get into this field? What interested you?
I have a deep-rooted connection to manufacturing and metal fabrication that goes back several generations in my family. It's not just a profession, but also an immense source of pride for me. My grandfather was the founder of the first vessel shop in our hometown in the 1950s, and he instilled a passion for craftsmanship and metalwork in our family.
He passed the torch to my father, who expanded our business into other areas of metal fabrication and eventually into jobsite contracts. Growing up, I was always around the shop, and I began helping when I was 10 years old. I was fascinated with manufacturing, process control, and enjoyed the satisfaction of delivering quality products.
Over the years, I worked in various roles within our family business. I witnessed firsthand how dedication, innovation, and a relentless commitment to quality can transform a small shop into a thriving manufacturing enterprise.
4. Why are skilled laborers/ tradespeople important to our workforce?
They are indispensable with their specialized expertise. They solve complex problems, drive innovation, and contribute significantly to the economy. Skilled trades offer inclusive career opportunities, promote workforce diversity, and have a positive impact on local communities and long-term sustainability.
5. Why is it important to celebrate National Tradesman/Tradespeople Day?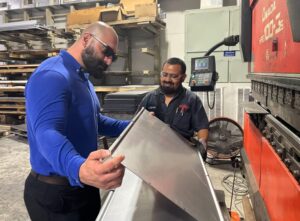 Celebrating National Tradesman/Tradespeople Day is not just a day of recognition; it's also a platform for raising awareness about the value and significance of skilled trades and helps bridge the gap between the skilled labor shortage and the demand for these essential roles.
Additionally, it underscores the need for investments in training, education, and workforce development to ensure a thriving and sustainable future for these professions.
6. What's your management style?
I draw heavily from my background as a pro rugby player, emphasizing the significance of high-performing teams. I believe in cultivating the strengths of individual team members while also prioritizing relationships within the team.
I believe in continuous training and skills development, clear and transparent communication, leading by example to set high standards, fostering a culture of accountability, promoting coachability, and recognizing the importance of teamwork.
Beno (third from left) was a professional rugby player for four years. He draws from his experience in teambuilding skills for his work today.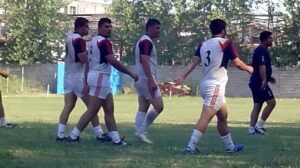 7. What's the best part of your position?
It's undoubtedly the combination of being part of a caring team within a growing company. Working with a team that genuinely cares about each other and the success of the company creates a remarkably rewarding and supportive work environment, as everyone is working toward a common goal. I also find it immensely gratifying to coach and mentor individuals, guiding them to unlock their skills and talents.
8. What makes WMP different from other companies where you've worked?
WMP's strong foundation in family values and dedication to delivering the highest quality products is evident in every facet of its operations, and the ability to fabricate products for diverse applications shows adaptability and expertise.
Team members are encouraged to identify and address complex challenges creatively, creating an environment of innovation. WMP is committed to growth, offering both professional advancement and skill development opportunities, as well as embracing innovative technologies.
9. What's a surprising part of your job others might not know about?
I do a lot of problem-solving and strategic thinking, as a significant portion of my responsibilities involves tackling unexpected challenges and devising innovative solutions. This could range from resolving production bottlenecks to adapting to unforeseen changes in market demand.
10. Tell us about the team you manage. How do you all work together?
We are a diverse group with various skills, including production managers, supervisors, skilled laborers and support staff. We collaborate closely, driven by clear communication and shared goals. We approach problem-solving collaboratively, encouraging team members to propose solutions. Accountability is also central to our culture, and we appreciate each other's contributions.
11. What excites you about the future of manufacturing? And about the future of WMP?
I'm excited about technological advancements that promise greater efficiency, precision, and sustainability. These innovations hold the potential to revolutionize how products are made and improve their quality.
For WMP, our strong team and collaborative and problem-solving culture fosters an environment where innovative ideas thrive. I'm also proud of WMP's sustainability initiatives with our dedication to eco-friendly practices.