By Russell Hillenburg, President of Woven Metal Products
Giving back and helping others have always been important to me and my family. At Woven Metal Products (WMP), we've always made it a point to support local nonprofits and provide support to our community in Alvin, Texas.
But this year, our WMP team decided to take these efforts a step further and rally around a cause that is important to all our team members: helping grow the capabilities of the future trade skills workforce.
My passion is helping bring up young people and other future business leaders by sharing knowledge to help them get started — and providing my time or suggesting resources that can impact their future.
Higher learning at the collegiate level isn't for everyone, and potential employees with trade skills are incredibly valuable to manufacturers — as well as to our economy. However, a 2021 study from Deloitte and the Manufacturing Institute found that the skills manufacturing gap in the U.S. could leave as many as 2.1 million jobs unfilled by 2030. That's a massive gap and a lot of missed opportunities — both for potential employees and employers.
Companies like WMP have an opportunity to contribute to the pipeline of first-time job seekers who may be interested in manufacturing and skilled trade careers. We can do that by making connections with rising students and raising awareness for manufacturing industry careers in our community.
That's why we created Woven Together.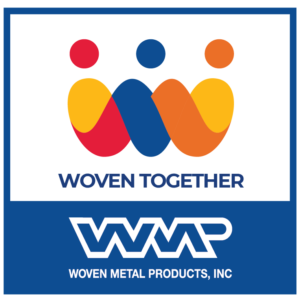 Woven Together brings together our brand promise of partnership attitude and our value of collaboration to foster opportunities and support the development of the future workforce's skills.
We know that traditional higher education isn't for everyone, and we'll use Woven Together to spotlight the benefits of trade skills careers, helping tomorrow's workforce reach their full potential.
What is Woven Together?
Earlier this year, we launched our signature program, the Spark for the Future scholarship, a $1,000 annual scholarship for students in the Alvin, Texas, area who are pursuing higher education and instruction in welding and related metal-working specializations. The award can be used for study at vocational and accreditation programs, as well as two- and four-year undergraduate programs.
The WMP leadership team speaks at local trade schools, community colleges and high schools about opportunities and trends in the manufacturing industry. We also invite these students to visit the WMP shop to see the work in action and ask questions. We welcome the opportunity to share more about industry with students and are hoping to expand this program in the coming year, especially with National Manufacturing Day later in October.
We are continuing our support, financially and otherwise, for local nonprofits that provide resources to help families and individuals achieve their full potential. We've been a longtime supporter of the Wheelhouse in Houston, which provides a supportive environment and recovery tools for men who have suffered from substance abuse disorder, helping them return to society as functional, useful and responsible members. We also work with Alvin HOPE, collecting and donating needed items around the winter holidays.
Over time, we hope to continue growing Woven Together to further address this critical need in our industry, while supporting our community. We hope you'll join us in our passion of raising awareness for the importance of modern manufacturing careers — and the wealth of opportunities available.