By Russell Hillenburg, President of Woven Metal Products
With the holiday season upon us, many of us are spending time — virtually or in-person — with friends and family. This time of year always makes me reflect on our company's ties to family and what lies ahead.
My grandfather Richard Hillenburg started Woven Metal Products (WMP) in 1967, and I'm proud to be the third-generation owner of our family business. He opened up WMP over 50 years ago, drawing on his expertise working in Dow Chemical's in-house shop as a tool and die maker and past experience running a shop in the industry.
Originally, WMP focused on manufacturing wire mesh internals for Dow Chemical, and over the years as our customers' products and needs changed, my grandfather evolved WMP's products and approach too.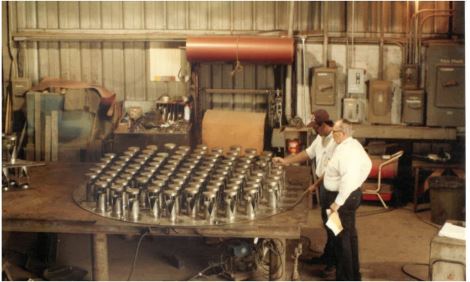 But one thing has never changed: a commitment to creating a positive working environment, making quality products, and expertly serving our clients. My grandfather cared about his team — and when my father took over WMP in the mid-1990s, he continued with the same tenets. In fact, several team members stayed with the company for several decades before retiring. It's clear when you care about employees, helping them grow and thrive, your business also grows and thrives.
As I look back over the last five decades of WMP's history, I'm also very proud that we've made a point to invest in the latest technology and stay ahead of the latest innovations in fabrication equipment and techniques. From using novel punching machines in the 1980s and waterjets in the 1990s to being an earlier adopter using laser cutters in the 2000s, we've always been on the front end of the technology curve, offering the best fabrication capabilities to our customers. We're able to serve as our customers' solutions provider, suggesting new approaches they may not have thought of — not just functioning as their fabricator. We've also worked to develop several key products for the industry, and even patented these solutions.
When I became president nearly 12 years ago, I made sure to carry on the traditions from my father and grandfather when it came to a focus on our team, client service and new offerings. But I also looked ahead to other areas of growth — bringing in new customers, growing our facilities, and diversifying our team with skilled employees who specialize in several areas.
And that focus has paid off. We've grown our customer base, while nurturing our original ones. We've invested in automation in our shop, while finding the best ways to integrate those features into our people's workflow.
And since we've kept our business in the family, we've had the freedom to do what's smart for the business — with an eye for the future. That means we've been able to bring on the right people, even at the beginning stage of their career, and train them to reach their full potential.
As I reflect on our history, I'm impressed to see how WMP has transformed from a small manufacturer of custom metal parts into a renowned leader within the fabricated products industry, serving some of the biggest names across multiple industries. It's been an amazing journey, and I'm eager to see what the future holds.